This Pokemon is a Legendary Pokemon. Unlike other pokemon it has 4 different forms - Normal Forme, Speed Forme, Attack Forme, and Defense Forme. The Normal Forme is balanced through all stats, while the other forms each focus on one particular stat. It can be encountered in the Devon Building when you have the Life Orb (obtained through Gacha or maxing friendship with Z.)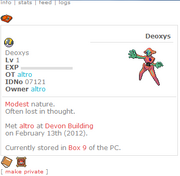 Ad blocker interference detected!
Wikia is a free-to-use site that makes money from advertising. We have a modified experience for viewers using ad blockers

Wikia is not accessible if you've made further modifications. Remove the custom ad blocker rule(s) and the page will load as expected.